Buddy's Web Page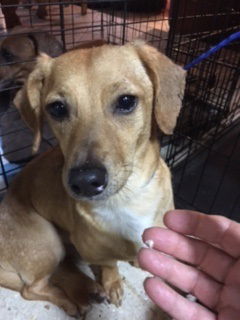 I would love you more than you can imagine.
Please sponsor me!
ATDR
Name: Buddy
Rescue ID: D170060
Status: Available for Sponsorship
Adoption Fee: $250.00
Species: Dog
Breed: Dachshund
Learn more about the Dachshund.
Color: Dilute Red Piebald
Sex: Male
Current Size: 15 Pounds
Current Age: 8 Years 8 Months (best estimate)
Activity Level: Moderately Active
Indoor or Outdoor: Indoor Only
Good with Dogs: Yes
Good with Kids: No
Description:

Buddy and a sister Amy were two of a large seizure in south Texas. Buddy is a bit skittish, having had limited contact with people before he came to ATDR. Very sadly, the beginning of Buddy's life was not filled with love or affection. Time has been needed for him to trust his foster mom. A period of time AND patience will likely be required for Buddy to trust an adoptive parent, but he is so worthy of working with! Once he feels comfortable with his person, he can be very affectionate. He's come a long way in his foster home, but still has a ways to go. When he first arrived at his foster home, he was afraid and very wary. He was also afraid to go outside for fear of being left out there permanently...now he's one of the first pups out the door, trusting his foster mom to let him back in. He also doesn't like having his nails trimmed, so allowing a vet or groomer to do it would work best.

If you would consider opening your heart and home to Buddy, please fill out an adoption application. His foster mom can provide more detailed information about Buddy in a telephone conversation. He so deserves to have a forever home where he is loved and feels secure. Buddy has such fear that he can be aggressive towards people he doesn't know, so a home with fewer visiters would be best for him.



Video of Buddy:

Other Pictures of Buddy (click to see larger version):

89.7k

319.6k

32.5k

28.4k

29.2k

679.1k