Russo's Web Page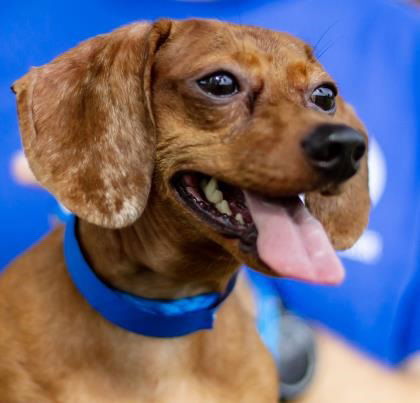 Won't you think about sponsoring me?
Name: Russo
Rescue ID: D180290
Status: Available for Sponsorship
Adoption Fee: $250.00
Species: Dog
Breed: Dachshund
Learn more about the Dachshund.
Color: Red
Sex: Male (neutered)
Current Size: 12 Pounds
Current Age: 8 Years 9 Months (best estimate)
Activity Level: Moderately Active
Indoor or Outdoor: Indoor Only
Good with Dogs: No
Good with Cats: No
Good with Kids: No
Housetrained: No
Description:

Russo is a really cute little guy who loves treats but tries to limit himself to one a day so that he doesn't end up looking like a sausage. He also like peanut butter, fetch, car rides, and smelling feet. He knows the sit, stay, come, no, down, and off commands. If he doesn't see you, he'll bark at the door until you let him out. He weighs 13 pounds and is moderately active. He enjoys tugging, toys, and going for walks…especially if there are some feet somewhere to smell! He's a suburb watch dog and very protective of his home inside and out and his human. No one will ever sneak up on you because he will bark until they leave, even a dog much, much bigger than he is. He has no fears. He's very possessive of his food and his things. Even though he is friendly with other dogs and children outside the home, if they are inside it is a different story: he has to protect his "stuff" and no dog or kid had better come near him. Older kids may be ok as long as they respect what's his. He totally won't tolerate living with a cat or a bird. It just needs to be you and him and he wants to be where you are. He can be a bit of a loner but a more loyal companion you'll never find.

Russo would do best as an only pet in a home with no children. If you are looking for a loyal best friend who would watch over you and your property, please fill out an adoption application for him. He's a good boy a bit set in his ways who deserves a good home!


Other Pictures of Russo (click to see larger version):

164k

82k

85.9k

1040.6k

179k

140.6k

44.1k

1205.5k

399.9k

1299.2k

361.4k