Minnie Pearl's Web Page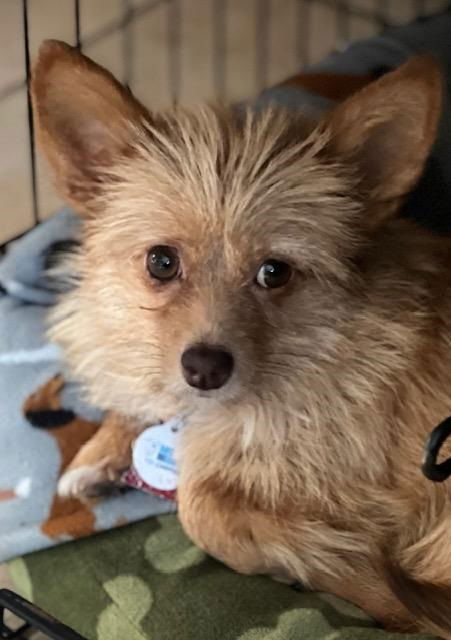 Interested in adopting?
Minnie Pearl has an adoption pending.
ATDR 3473
Name: Minnie Pearl
Rescue ID: D220012
Status:
Available for Adoption (adoption pending) (
adoption info
)
Adoption Fee: $200.00
Species: Dog
Breed: Dachshund / Chihuahua / Mixed
Learn more about the Dachshund.
Learn more about the Chihuahua.
Color: Golden Colored Long Hair
Sex: Female (spayed)
Current Size: 6 Pounds
Current Age: 2 Years 7 Months (best estimate)
Activity Level: Moderately Active
Indoor or Outdoor: Indoor Only
Good with Dogs: Yes
Good with Kids: No
Housetrained: Yes
Description:

Say hello to Minnie Pearl! This tiny treasure was posted to a neighborhood site and thankfully seen by a caring ATDR volunteer who immediately came to her rescue. So very sadly, the person posting Minnie said she'd been curled up on her porch...cold and shivering in the freezing weather for four days, hanging out with semi-feral cats. How could anyone not bring a defenseless baby like this inside we'll never know, but she's now safe in a loving foster home and oh so grateful for food, water, a soothing bath and nail trim, and a soft, warm little bed to sleep in. Her foster mom reports that little Minnie minds well and follows her everywhere!
We're guessing Minnie Pearl is a Dachshund/Chihuahua/maybe Terrier mix. Whatever she is, she's absolutely perfect and as cute as a button...she's full of spunk and will entertain you endlessly with her funny personality! This little doll will defintely keep a smile on your face! She may be a little cautious of being handled for a few days, but when she desides you're okay she's the sweetest baby ever! We don't know what her past might have been, but we know that her future will be full of the love and care that she deserves.

Due to her delicate size and big attitude, Minnie must only go to an adult home with no children...she would show no patience with kids. If you can commit to loving, catering to and caring for this little precious jewel with all your heart, please submit an adoption application for Minnie Pearl. She'll fit right in that place in your life that only a beloved pup can!
Other Pictures of Minnie Pearl (click to see larger version):

818.4k

686.6k

188.9k

143.4k

193.9k

86.3k

90.6k