Bosley's Web Page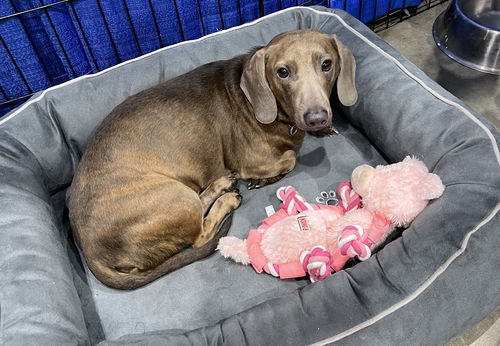 Interested in sponsoring?
Name: Bosley
Rescue ID: D220069
Status: Available for Sponsorship
Adoption Fee: $250.00
Species: Dog
Breed: Dachshund
Learn more about the Dachshund.
Color: Reverse Blue Brindle Standard
Sex: Male (neutered)
Current Size: 22 Pounds
Current Age: 3 Years 8 Months (best estimate)
Activity Level: Highly Active
Indoor or Outdoor: Indoor Only
Good with Dogs: Yes
Good with Cats: No
Bosley's baby boy,
Baloo
(adopted) can also be seen on our website.
Bosley's baby boy,
Clyde
(adopted) can also be seen on our website.
Description:

Bosley is a stunning reverse blue brindle smooth standard dachshund with a very regal look and a sweet, shy disposition. He is handsome and knows it! He's a smart boy and has already learned to use the doggy door! Bosley loves his Mom and is good with other dogs, especially females and neutered males are fine. He will definitely need a doggy buddy to enjoy life with in a new forever home. Bosley is slow to warm up, prefers women not good with men for the most part.
He loves the outdoors and given a backyard situation is sometime outside playing and rolling in the grass. No apartments or shared walls for Bos he is vocal and will bark at strangers. Bosley will do best in a very experience dachshund home, he is somewhat typical of the breed. Please ladies only!

If you're looking for a best friend and companion to love and share the good things in life with, please submit an adoption application for Bosley. He'll quickly fill that space in your heart that only a devoted companion can!



Other Pictures of Bosley (click to see larger version):

1814.9k

1875.6k

2371.5k

948.2k

778.5k

151.6k

178.5k

181.6k

180.7k

2618.2k

2642.7k

2577.5k